Posted By janice on March 4, 2011
I'm a single chick myself, and I know firsthand how hard it is to keep up with everything you need to take care of.
So let's talk about Organizing for the Single Person.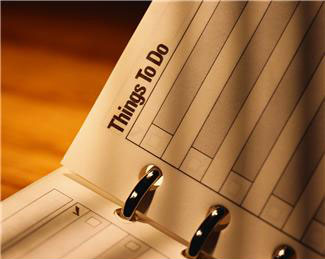 The first major issue with singles is that we don't have anyone to delegate to unless we pay them. If friends help you, you still have to pay them in food, beer or both.
I know the women faculty members at work always talk about how they need a "wife" at home like many of their male counterparts. The wife packs for trips, takes care of the house and kids, etc.
Meanwhile, members of the women faculty, like many married women with or without kids, are pulling double-duty in most cases.
Stay organized by hiring help
Just this past week, I had a talk with a single male doctor. His work life wasn't the problem with time management, but his life at home had some issues. He doesn't like cleaning and doesn't want to spend the time doing it. I suggested he hire a housekeeper to take that burden off his plate.
I've encouraged clients to make these choices. If you hate doing the lawn, can you afford to hire someone? What can you take off your plate and make your life easier?
Delegating can cause feelings of embarrassment, guilt and shame, and I encourage my clients to stop that kind of thinking when it comes to delegating. Delegation is a sign of good leadership, a sign of knowing your boundaries.
Organizing tips for my fellow singletons:
Make sure clothes and shoes in your closet are wearable.
Get ready the night before when possible:

Lay out clothes
Pack the gym bag
Pack lunch

Create a schedule of what rooms will be cleaned when
Post cleaning schedule on the refrigerator.
Make a laundry schedule by asking these questions:

How much do you need to have dry cleaned?
Do you need a laundry service to do your laundry for you?

Buy freshly prepared food if you don't like cooking.
Keep a shopping list at the ready on paper or smart phone.
Pay your bills online.
Get budgeting help, use services such as Mint.
A recent article on bartering between friends has spurred some people I know to start a Facebook group on bartering. Each of us can describe our skill sets and can exchange bartering services. It's a great way to save money and get help.
Have a discussion with your friends about bartering and see if they're interested. They say it takes a village to raise a child. I say it takes a village of singletons to rally around other singletons.
So my fellow singletons, what organizing tips do you have to make life easier?