Posted By janice on February 7, 2011
This is the fourth in a five-part series on productivity and health
Clutter causes stress, and clearing the decks of your mind can help you reduce that stress and anxiety. Once you do that, you can organize the clutter, and your productivity will improve.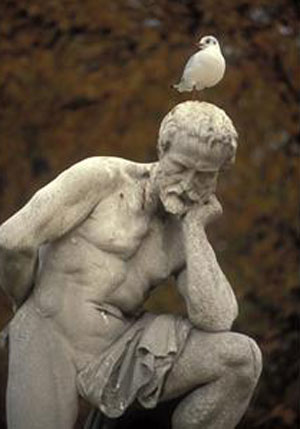 How to clear your mind
In the book "The Way We're Working Isn't Working", author Tony Schwartz discusses the third quadrant of productivity: organizing and time management skills, all made possible via your thought process.
So far, we've discussed the physical and emotional quadrants of a person's life as they relate to productivity. But finding peace and balance in the mental part of one's life is equally important.
Here are some major areas of thinking related to organization:
Getting Things Done. You have a lengthy to do list but if you never tackle anything on it, it doesn't help. Each day ask yourself what are your MIT's – Most Important Things? What are the two or three actions you MUST get accomplished today? The answers help you prioritize your day. Everything on your action list does not have the same urgency for completion. If everything is important, then nothing is important – to borrow a phrase from uber-organizer Peter Walsh.
Calendar Management. Use one. It can be paper or electronic, but you need to have a calendar to remind you of appointments, important to-do's and even what day it is. It's easier today to have an electronic calendar since you can easily make appointments, change them if necessary, set up reoccurring appointments and set electronic reminders.
Paper Management. The old OHIO Rule of only handling it once is antiquated in today's modern world. However, it's important to make decisions when it comes to paper. My organizing colleagues and I recommend people use just a few folders to manage your action items.
Folders to keep your mind focused and organized:
Action: Your MIT's go here (your to-do/action lists)
To Go: Meeting agendas, lists, anything to take with you
To Enter: Things you need to enter in the computer
To Pay: Any paper copies of bills (Clean out each month)
Taxes 2011: Receipts, papers related to your taxes
Ideas: A place to park those brilliant ideas
Me Folder: Kudos, work evaluations, CEUs, trainings
E-Mail Management. My rule is that e-mail is not for emergencies or something critical. If there is an actual emergency, you need to pick up the phone or make an in-person appearance. You never send an e-mail and then call the person and ask, "Did you get it? Did you get it? Did you get it?" Yeah, that won't endear you to anyone.
Since e-mail is not for emergencies, then you can feel better about checking it several times a day instead of the constant 24/7 stream. Turn off the e-mail alerts. They're distracting.
Digital Management. Today it's easier and easier to go digital. Most of us don't need lots of paper folders. Scan in documents and store the PDFs on your computer or external computer drive. Create the same folders you have for your paper folders. High speed scanners such as Neat Desk and ScanSnap scans in paper, business cards and receipts help you organize your paperwork.
The most important thing to remember about organizing is to make a decision. When something comes into your life, whether it's junk mail, a bill or magazine, make a decision. Do I recycle or toss this? Do I need this? Do I need to take an action on this? Do I keep this? If I keep this, where do I keep it? How long do I need to keep it?
See also:
Be Productive: Take Care of Yourself (Part 1)
Be Productive: Take Care of Your Body (Part 2)
Be Productive: Take Care of Your Emotions (Part 3)