Posted By janice on March 30, 2014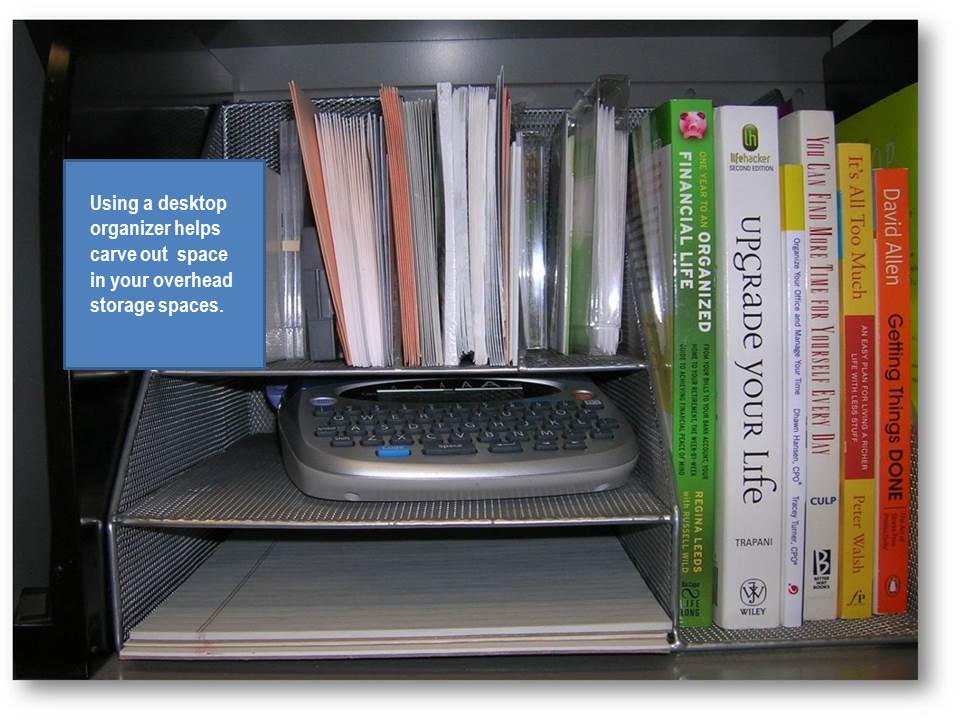 Your desk is an essential organizing and productivity tool for your work. You certainly spend enough time there each day so it should work for you, instead of against you.
When it comes to putting your stuff where you need it, break your desk space into three categories: hot, lukewarm and cold.
Hot. When you sit in your chair, you should be able to easily reach everything you use on a daily basis. You should be able to do this with minimal effort and without discomfort.
Think about the items you use each day. Don't use your tape or stapler every day? Put them in a drawer to keep them out of the way.
Make sure your keyboard, chair and computer screen are in ergonomically correct positions for you. Lifehacker.com has a great ergonomics article about to correctly set up your desk.
Lukewarm. In this category, you may need to stretch, do a slight lift out of your chair, open a drawer, or roll your chair over a couple of feet to reach the lukewarm items.
Cold. As the name implies, cold items are those items in cold storage. Cold items require you to standup or walk over to another piece of furniture, such as a file cabinet.
Setting Up Your Desk
Pens and Markers. Have one container for pens and markers. You only need one. It's okay. Extra pens and markers go in the desk drawer to use as they're needed. In my pen container, I also keep my ruler and scissors for easy access.
Organize Your Desk Drawers. Use the extra deep drawer organizers in your desk drawers to organize your supplies. To keep it from shifting each time you open the drawer, I use Velcro circles or squares to keep it in place. Use one drawer to round up personal items, such as medication, lotion, and food.
Overhead Space. If your desk or cubicle comes with an overhead cabinet, you can use desktop organizers to carve out spaces you need for organizing materials and supplies. Vertical file trays are great for storing paper for the printer, letterhead and envelopes.
Manage Your Wall and Bulletin Boards. If you have a bulletin board or hang stuff on your wall, this is where things can start looking very messy. Keep the important stuff out that you actually look at often.
With bulletin boards, keep inside the lines and make sure all of your papers and photos are hanging inside the border. When you hang items on your wall or bulletin board, keep it to one layer instead of letting it stack up.
Limit Your Shrine. I always encourage people to have photos of their loved ones or a little doo-dad or two to show off your personality. When your collection gets too large, it can impede into your work zones.