Posted By janice on January 1, 2013
I always thought it was better to be good. Lately, I've realized that it's good to be better.
Since this is the first day of 2013 and January is Get Organized Month, I thought it was fitting to talk about how to be better. I know many of us have made resolutions, and if we want to be successful, we need to be better.
Dr. Heidi Grant Halvorson wrote about the nine things successful people do differently. One of the main points was the difference between having a "be good" mindset versus. a "be better" mindset. Halvorson said research has shown that people who adopt a "be better" mindset are more engaged, productive and confident about their decisions. "People whose goals are about getting better, rather than being good, take difficulty in stride and appreciate the journey as much as the destination," Halvorson writes.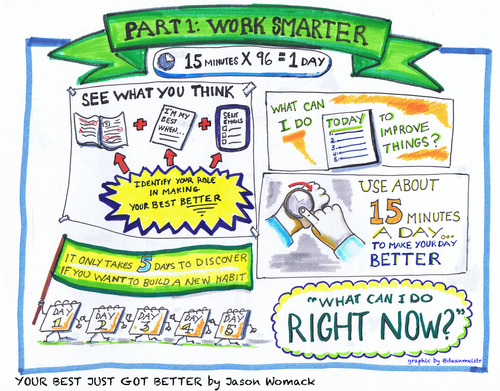 This year, productivity coach Jason Womack released his newest book "Your Best Just Got Better: Work Smarter, Think Bigger, and Make More." I first met Jason several years ago when he worked for David Allen's company. Jason later started his own company. (His wife Jodi is equally brilliant and runs a Women's Business Social called "No More Nylons.")
I'm a detail kind of chick, and I've always struggled with the big picture/vision thing for myself. Like many of my own organizing clients, I can get in my own way of accomplishing my goals. Jason balances both approaches with his work, and he helps you think bigger so you can become better. Here are a few thought-provoking questions he suggests you ask yourself:
Who do I spend time with that limits my thinking?
What is getting in my way?
What's your why?
Why do you think the way you think?
One of my favorite chapters is Chapter 7 where Jason discusses his "so that" statements. These "so that" statements are very powerful and can help us rise above busyness that we use to hide behind instead of accomplishing our big goals.
After you establish your big picture, Jason drills down to those details – the kinds of things that I love. He gives great advice on how to track your time and thoughts.
Are You Ready?
If you want to see typical resolutions in action, go to the gym. There is always an increase of people in the gym in January, but by Valentine's Day, the crowd noticeably thins. You will see a few people who "stick."
If you want to be one of those people who stick to their resolutions, ask the right questions of yourself and adopt a "get better" mindset. It's good to be better.