Posted By janice on October 22, 2012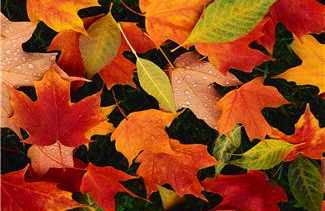 The weather is finally a bit cooler as fall kicks into high gear. As we stand on the eve of the holiday season, freshen up your space in preparation.
Clean out the pantry, freezer and refrigerator in preparation of holiday meals and baking. Toss expired items, donate unwanted and unopened items to the local food bank, and wipe everything down. Take inventory to see what items you have so you don't buy duplicates in the coming months.
Clean out your closet. As your summer items are packed up and your winter duds come out, check them to wear and tear. Toss anything that's stained, donate items in good conditions that you no longer want, and have items needing repaired actually repaired. While you're at it, go through your drawers and ditch the items that have seen better days.
Clear out your flat surfaces – coffee table, kitchen counters, nightstand, bathroom counter and home office desk. Recycle magazines, newspapers, papers and catalogues that have built up over the summer. It's time to deal with the stuff you've put to the side to handle "later" and make some decisions.
Clean out your purse and wallet. Time to clean out the old receipts and other odd bits in your purse or wallet. Use a lint roller to clean out those crumb-like items that seem to congregate at the bottom of your purse, and wipe down the outside of your purse.
Donate the stuff you've been meaning to donate. Load the stuff you've been stacking up for donation in your car and take them in. It feels good to get unwanted items out of your house. (Sorry, but I can't help you with unwanted people who may be in your home.)
Clearing out the cobwebs will get you ready for the fall season.