Posted By janice on June 9, 2012
When I bought my house, I was excited to have a home office. In my previous apartments, I only had tiny niches devoted to my office area.
I've been working on my office space since I moved here in 2009. First, I painted the walls. One wall is hot pink and the other walls are gray.
The Chalkboard.
Using chalkboard paint, I painted a large chalkboard on my hot pink wall. I did attempt to use the magnetic paint primer to make it magnetic, but the paint didn't really work for me. I'm pretty sure it was user error.
To trim the chalkboard, my brother met me at a home improvement store where I bought a couple of baseboard molding with a pattern on it. My brother loaded his saw in the back of his pick-up, backed into my garage and cut the pieces in the lengths I needed.
I laid the pieces in the backyard and spray painted them silver. When my parents were here for Thanksgiving in 2010, my dad – a lifelong carpenter – nailed them up for me.
Since the magnetic paint didn't work, I simply screwed a long magnetic strip from The Container Store onto my chalkboard area. I also glued a couple of strips of magnetic tape onto the chalkboard wall as well, but I may pry those off and cover them with another magnetic strip. I added a tiny nail to hang my annual Houston Firefighters calendar (what can I say? It's for charity!).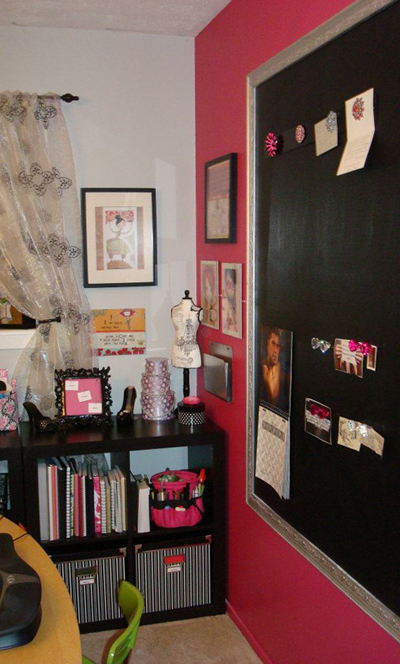 The Desk and Furniture
For my desk, I used the IKEA table I used for my dining table at my apartment. When I bought the table years ago, IKEA had it displayed as a dining table, a desk and a conference table. My apartment came with a built-in desk, and I decided to repurpose the dining table as my desk since I needed one. When I got to renovate the dining room space, I decided I needed a table with leaves so I could expand.
In 2010, I came across the bright green rolling chair at Target. The chair was marketed for dorm rooms, but I snatched it up for myself for $20.
My friends Christina and Randy bought a new dining buffet for their home and gave me the old cabinet they had been using. Since it was just plain pine, I painted it black and added two crown door knobs that someone else gave me.
The other piece in my office is a simple white book shelf from The Container Store. It had to be fastened to the wall because the carpet in the room was causing it to tip forward.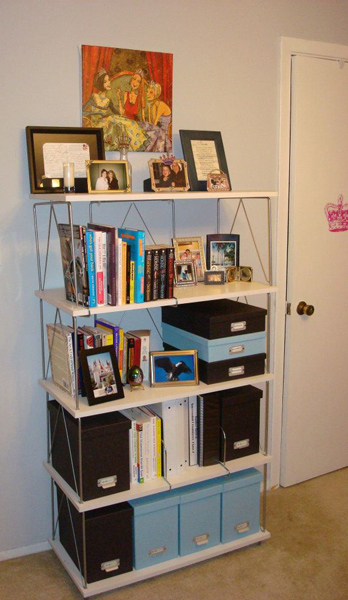 My office also has a black chair that's actually a cushioned folding chair I originally bought for my niece's dorm room but was too big for her space. There's a pillow in the chair that's actually a Cameron University sweatshirt my mom made into a pillow (UCLA – the University of Camera, Lawton America).
I also have a cart with skinny drawers that was a Sam's Club find, and I use it to store fabrics, scrapbook papers and other craft-related items. I bought a black metal chandelier for $20 at the close-out sale for the former Houston Historical Salvage Warehouse. It was a newer one so it didn't require any rewiring. I want to add some crystal prisms to it.
The Files
I had a two-drawer, metal file cabinet, but I needed a bit more storage space for books and a sturdier place for my printer. During Thanksgiving weekend, IKEA had the four-cube Expedit shelves on sale for $20 instead of $40 each, and you were allowed to buy two at that price.
I cleaned out my files and moved them into individual file boxes. This gave me additional space for my decorating ideas that I've been gathering. I already had some other papers and things stashed in the Stockholm boxes from The Container Store.
My goal is to continue to make as many of my files digital, and some of the older papers will naturally "expire" as time passes.
The Decorations
I think I used to be a crow in a previous life because I am always drawn to shiny, blingy objects. One wall is my Hollywood Boyfriend Wall and features the Gladiator movie poster, photos from the first Ricky Martin concert I attended, and Duran Duran. If you put a poster in a frame, it becomes art, right?
The other décor in my office consists of items and doo-dads that used to sit on my desk when I worked at the newspaper and for the Galveston school district. There's fun and inspiring artwork and wispy curtains that were too sheer for my bedroom.
I put a crown decal over my chalkboard and on the closet door. The door of the room has a wall decal I found on Etsy. Since I am not ready to replace all the doors inside my house, I decided to decorate them with wall decals to jazz them up a bit.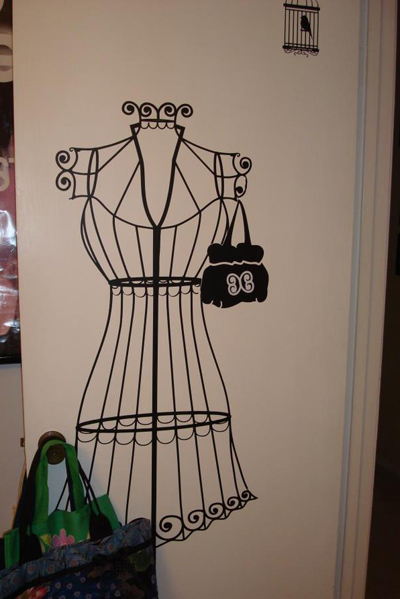 The Future Projects
A stack of picture frames and prints lean against one of the walls.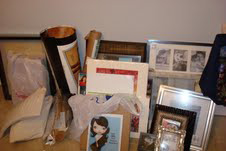 When my friends come over and see the stash, they say, "Hey I thought you were a professional organizer." I always reply, "Yes, but none of us are perfect."