Posted By janice on March 20, 2012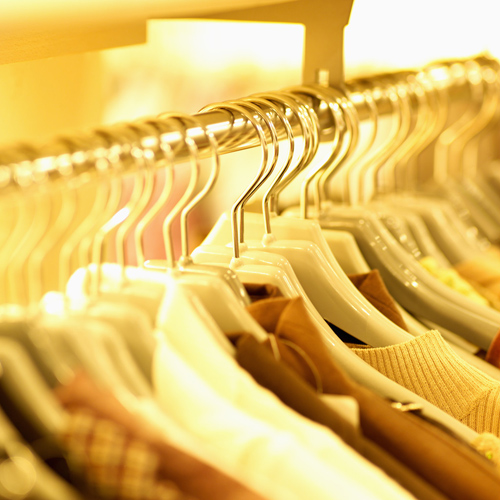 This past Saturday night was an exciting night in the Simon household. I was deep in my closet, sorting through my wardrobe. Even professional organizers have to redo their space every now and again.
One of the side effects of the health issues I've been dealing with since May 2011 is weight loss. I've dropped over 50 pounds, and I'm not complaining about that "side effect" at all and consider it a gift for all the crap I've been through.
During the past two or three months, a couple of my co-workers suggested retiring some of my wardrobe because the clothes were too big and looked weird. It's always interesting how we don't see ourselves as well as others do.
I began digging through the carefully packed boxes of smaller clothes in my closet, and I was excited that several things fit for the first time in a long while. One of my friends is jetting off to Hawaii to celebrate her anniversary, and since she didn't want to buy a bunch of new clothes for a trip, I dug through my boxes to find some pieces for her. She's a size smaller than I am now so it works out very well.
By digging through my six boxes (all sorted and labeled by size) for several weeks, I created a giant mess in my closet. This weekend, I devoted the time to clearing out the stuff I no longer need and adding in the things that now fit.
Donate or Keep
First, I had to make more space so I went through the items already hanging in my closet. This meant trying on everything. For me, the choices were: 1) Too big! Awesome! Donate pile. 2) Oh, this looks better. Keep!
I had a moment of panic when I saw how many things were gone, but this brings me to Step Two – seeing what fits of the smaller sizes. Again, I had to try things on. This time, my choices were: 1) Ooh, this looks cute! Keep! 2) Not quite yet (said in a singsong lilt). 3) Oh, I can't wait until I get back into this! Back in the box.
For Step Three, I hung up everything that fit into the closet and repacked the items that didn't. The boxes were still labeled so I didn't have to re-label anything. I created more space in my closet since I was able to reduce my stash by one box.
The process reinforced a few facts I already knew:
The actual size on a clothing tag means very little, and what counts is the fit. It's amazing how much difference a size 16 is, depending on how who made it. No wonder shopping can be a frustrating experience.
Shopping in your closet is FREE! The only item I need to purchase is a pair of strappy black sandals – an annual purchase when you live on the Gulf Coast.
I am obviously drawn to cute dresses, comfy pajamas and colorful shirts. Going through all the boxes, I saw the pattern.
I realized how much I had missed some of my favorite pieces. I felt as if I was greeting long-lost friends, and I definitely took a walk down memory lane. There was the blue silk shirt I wore when I met my birthfather Mike for the first time. I purposely chose that shirt since it makes my blue eyes bluer, a feature I inherited from him.  There was the super cute dress I found for $10 at a department store that I wore to the Savvy Auntie book launch party last year.
With any donations, make sure the items are gently used and do not have stains, rips, tears, missing buttons or broken zippers. Charities spend millions each year disposing of unusable donations. If an item is not good enough for donation, cut it up for rags or toss it.
Where can you donate your clothes and accessories? Charities such as Goodwill, Salvation Army and Purple Heart are always good choices.
Other resources:
Dress for Success. All business clothes, shoes, bags and jewelry are going to this program that helps women preparing for job interviews. There is a serious need for plus size items.
The Fairy Godmother Project. These fairy godmothers provide prom dresses for high school girls who don't have the means to buy their own. They will take donations of cocktail and prom dresses, shoes, handbags and jewelry.
My next project will be to go through my socks, pajamas, underthings, shoes, handbags and jewelry.