Posted By janice on November 11, 2011
Guest post by Professional Organizer Geralin Thomas
Want to build a better wardrobe? Build a better closet, first.
Closets are the secret sauce of a fabulously, delicious gourmet wardrobe. And, best of all, they come in a variety of flavors, but the basic ingredients are the same.
Below are several of my "must haves" when organizing a closet:
A large, full-length mirror (the bigger the better)
Valet rod and/or a large hook for hanging an outfit the night before wearing it
Thick shelves for folded garments
Sturdy and smooth rods for hanging garments
Boxes to store shoes  (I think boxes are the only way to go!)
A system for keeping accessories accessible (belts, scarves, etc.)
Wooden, plastic, padded or flocked hangers (the thinner the better)
A light fixture that is super bright
A basket for MIAs – items that need mending, ironing and alterations
Stain removal products – A basket or box of a few is a must, conveniently located where you dress and undress.
Wine bottles – Place them inside boots to keep their shape.
A pretty jar, dish or tin for extra buttons and pins
Are you obsessed with building a better wardrobe? Do you have a passion for fashion? Are you experiencing a conundrum trying to create a clutter-free closet? If you answered yes to any of those questions, please leave a comment below and let me know what's on your "must haves" list, where you go for fashion advice and what's on your "must have" list for creating a closet you love.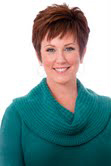 Past President of the NC chapter of the National Association of Professional Organizers as well as a chronic disorganization and ADHD specialist, Geralin founded Metropolitan Organizing® in 2002 to help transform the lives of her clients. Geralin has been published in an array of national magazines. She is often featured on well-recognized television and media outlets, including A&E's Hoarders, The Nate Berkus Show, Today and South Africa's The Home Channel.
Geralin is based in Cary, North Carolina and works with clients around the world. She truly enjoys sharing her organizing tips, techniques and problem-solving skills with others – and has helped professional athletes, politicians, artists, small business owners and many others.