Posted By janice on September 26, 2011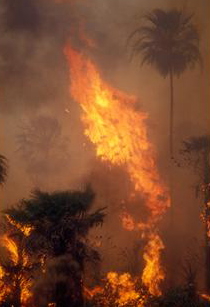 In recent weeks, we've watched dangerous grass fires break out near Houston and Austin. Several of our employees at MD Anderson who work at the Bastrop and Smithville campuses were among those who lost their homes in the devastating fires.
The fires broke out on the heels of the anniversaries of Hurricanes Ike and Carla, both of which caused tremendous damage in our area.
Ironically, September is National Preparedness Month. Are you prepared for a disaster? No one thinks it will happen to them. But it can.
Be safe. Be prepared. Be ready.
Here are some tips to keep you and your family safe:
Keep important stuff together. This includes insurance policies; birth and marriage certificates; your photo ID and passport; mortgage papers; your house inventory; medical and veterinarian information, etc.
Scan important documents and place them in the cloud, such as Dropbox, Evernote and other services. You can encrypt files to add another layer of security.
Scan your photos and keep copies on the cloud or services such as Flickr, Kodak Gallery and Shutterfly. I still have a box of photos to scan in myself.
Practice fire drills with your family and have a meeting spot, such as the neighbor's driveway.
If you have a second-story home, purchase a fire ladder to make an escape.
Change the batteries in your smoke alarm twice a year during the time changes.
If you have gas in your home, install a carbon monoxide detector.
Keep your car in good working order in case you need to evacuate.
Have clear walkways in your home. Could firefighters and paramedics safely enter your home to help you?
Know where your stuff is. If you had to evacuate your home, could you grab the important stuff you need and the sentimental items you want?
As you can see, a little preparation goes a long way in keeping you and your family safe.