Posted By janice on August 29, 2011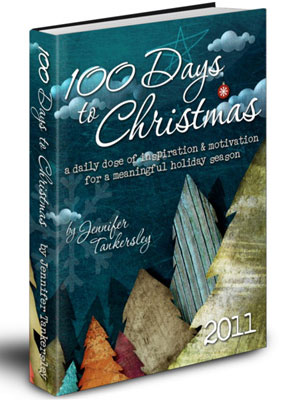 It is probably funny to think about Christmas when we're in the middle of triple digital heat and a drought.
Reading the new ebook "100 Days to Christmas" is stirring up the thoughts of fall and winter holidays. Holidays can cause stress and anxiety amid a whirlwind of plans, but author Jennifer Tankersley is here to help you get ready while keeping your sanity and, more importantly, your enjoyment of the holiday season.
Tankersley is the creator of ListPlanIt, a website devoted to all sorts of checklists for your life. As a big lover of Christmas, she created this daily guide for those who love the holidays and for those who find it all terrifying.
As a professional organizer, I often encourage my clients to break large projects into smaller, less overwhelming steps. Tankersley takes the same approach with the holidays.
The book begins with a daily tip on September 16 and runs through December 25. You will find tips on planning not only your Christmas, but also  Halloween and Thanksgiving too. Her step-by-step approach reminds you – in the musical words of Faith Hill – "just breathe." Let's be honest. We can make ourselves into crazy people during the holidays because we want things to be perfect.
I have to admit that for the past couple of years, I've found the holidays to be a bit draining. Reading 100 Days to Christmas has motivated and inspired me for the coming holiday season, and that alone is priceless.
To buy your copy and for daily tips, visit 100 Days to Christmas and have yourself a Merry Little Christmas. And a Happy Halloween and a Happy Thanksgiving.