Posted By janice on August 5, 2011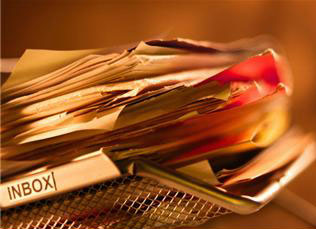 This week's Organizing Summer Camp Project is Paper! Amazing how one sheet of paper is so flimsy and weightless. Put together a stack of paper, and you can get a hefty pile of clutter.
My personal goal is to be as digital as possible, and it's easy to do when scanners are so readily available either as part of a printer or a separate device.
Bills. If you haven't already, see what bills you can pay online so you can eliminate paper statements. You can pay your bills through your bank, through company's individual websites, or through other services. If you're paying bills online and still receiving paper statements, go online and eliminate the paper statements. That means less stuff coming into your house.
Mail. Mail can pile up if you don't deal with it as it comes. Immediately toss junk mail into your recycling can. For the rest of your mail, you need to make a decision. Do you need to add it to your calendar? File it? Pay it? Shred it? Make sure you have a command center where you can easily remind yourself of action you need to take.
Shredding. I'm often asked if you need to shred everything to protect against identity theft. You don't need to shred everything, only the paper with identifying information, such as account numbers, Social Security numbers, and other important data. If you own a home, your name and address are on the public tax rolls.
You can put shredding into a separate basket or trash can and then shred once a week or every two weeks. What you don't want to do is to try to do a year's worth of shredding in one day. Shredders are designed to work for 15 to 20 minutes at a time, and then the motor must cool down.
Some shredding companies offer free shredding services if you bring the paper to them. Also, watch for free shredding days offered in your community.
Tax Stuff. If you haven't already, set up a folder for this year's taxes, and slip in any receipt you will need for taxes. That way when tax time rolls around, all of the receipts are in one place.
The Paper You Need. There's a great deal of paper that you don't need to keep forever, but there is some that you need to keep. These include: birth, marriage, and death certificates; divorce decrees; adoption decrees; your will and medical trust; and active insurance policies.
You don't need to keep bank statements, cancelled checks, and bill statements forever. For myself, I toss or delete bill statements monthly – usually when the new bill comes in. I have my bank statements available online if I need them, and I have the bank keep the cancelled checks for the few checks I actually write.
Other Paper. For those of you with old school recipes you've printed out or cut out of magazines, scan them in or create your own personalized recipe binder by taping the recipes on paper and sliding them into plastic sheets. Use dividers to find your favorites easily. Another option for recipes is Recipe Relish, which is a stylish box with dividers.
Make a weekly sweep through the living room and gather up any newspapers and magazines to recycle. Some used bookstores will take magazines, and if you want to donate them to hospitals, check with them on their donation guidelines.
With these tips, you will be able to conquer the paper in your life!