Posted By janice on July 14, 2011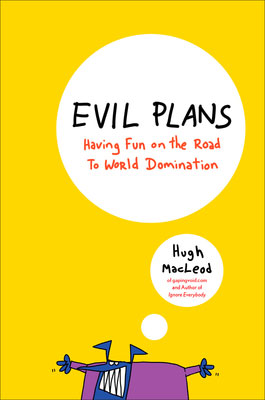 Evil Plans: Having Fun on the Road to World Domination by Hugh MacLeod
I was drawn to this book because of the title. When asked what my future plans or goals, I have often flippantly replied, "Global domination."
Cartoonist and professional blogger Hugh MacLeod advocates the need to have an Evil Plan to find the work you love so you can love what you do. MacLeod knows of what he speaks, and he wrote this hilarious book about how he quit his corporate job and found his passion working for himself.
MacLeod worked as an advertising copywriter for many years before leaving it behind. He began blogging in 2001 at his site
Gaping Void
and draws cartoons on the back of business cards. MacLeod left New York City and now lives in West Texas.
"Sigmund Freud once said that in order to be truly happy in life, a human being needed to acquire two things: the capacity to work, and the capacity to love. An Evil Plan is really about being able to do both at the same time," MacLeod writes.
I am lucky to have a job that I love where I help people organize their offices, their minds and their lives at work, and then I have my "night" job with my Clutter Princess blog and other writing.
MacLeod doesn't necessarily offer new information that you haven't heard before, but in this relatively short book, he fills the 170 pages with inspiration and motivation. He writes, "You were given a gift by the Creator, God, the Universe … Whatever. Until you have returned the favor, life will have a certain, feckless emptiness to it."
In these tough economic times, I know there are people out there working at jobs to have a job, and they may not feel passionate about what they're doing right now. MacLeod urges his readers to find something they are passionate about and to make their own evil plan. So even if you feel stuck, you can find something to ignite passion.
If you need a cheerleader, check out this book.