Posted By janice on June 6, 2011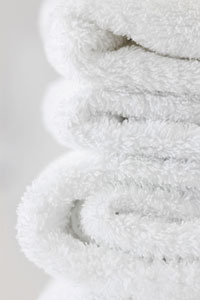 During a visit to see my nephews in Louisville, my sister-in-law Katharine was folding laundry. Like most moms, laundry is a perpetual chore.
Now folding laundry isn't usually earth-shattering, but Katharine mentioned how she likes to fold laundry while sitting in a chair and can place the folded clothes on the ottoman in front of her. To make sure she can fold clothes anywhere in the house, she has a chair and ottoman in the living room and downstairs in the basement.
It was a good reminder about the importance of having established routines. Routines are something we organizers talk about with our clients.
To create a routine, you have to create a habit. It's like going to the gym. If you keep the habit of spending a certain number of days at the gym, it eventually becomes routine. You can tell when a habit has become a routine when you do it without thinking.
So how do you start a new habit?
First, set small goals. You don't want to set yourself up for failure. Let's use the gym example again. If you want to go to the gym on a regular basis, you may need to begin with three or four days a week and work your way up to more days. Setting a goal of working out six days a week from the get-go is unrealistic and more than likely, not going to happen.
One routine I want to develop is bringing my lunch to work. So my first goal is to bring my lunch at least two days a week. Then I can work up to additional days.
Second, you have to prepare. It's hard to reach a goal without laying the groundwork. Going back to the gym example, pack your gym back the night before, lay out your workout clothes, and fill up your water bottle. I know for me to bring my lunch to work, I will have to pack it the night before as I am not a morning person.
Finally, track your progress and celebrate your victories. Keep setting and reaching your small goals, and before long, you will have a routine. The chair and ottoman are optional.