Posted By janice on June 1, 2011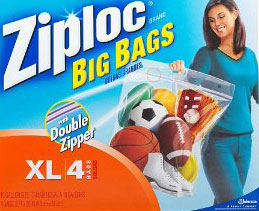 You know Ziploc as the maker of sandwich, freezer and snack bags, but several years ago, the company came out with Ziploc large and XL bags, the kind you can store sports equipment, blankets and other large, bulky items.
What it is: Ziploc has large plastic bags that come in large, XL and XXL sizes, and all the bags have handles for easy carrying. They also have two holes near the handle you can use to hang the bag up if necessary.  The plastic is pretty resilient.
Why it's awesome: The bag has the capacity to hold a great deal. You can use them for camping equipment, sports stuff, blankets, and anything else you can think of. For those of us in hurricane prone zones, they are handy to use for hurricane evacuations.
Drawbacks: Don't use sharp objects or you'll tear the bag. The only issue I had is with the occasional bag whose seal doesn't seem to work. It's a rarity and the bags are very reliable.