Posted By janice on May 16, 2011
The world feels emptier today since one of my heroes and role models passed away this week. My Uncle Cletus lost his fight with lung cancer, but he won the war over the other adversity he faced in his life.
Uncle Cletus was from a large Catholic family in the Wichita, Kansas area. He was loud with a booming voice you could hear a mile away. I suppose when you're one of 10 kids, you may have to develop a loud mouth to be heard.
During my early years, I remember him playing baseball, umpiring baseball games, and delivering oil and gas in his big red Amoco truck. He always sported a crew cut and had a grin on his face, the kind of grin that made you wonder what he had been up to. He was such a big guy that if he gently patted you on the leg with his hand, it would leave a red mark that you would notice later.
He married my mom's younger sister Geraldine, and my parents met at their wedding since Uncle Cletus was my dad's first cousin. Yeah, my parents complicated the family tree. I loved hearing the stories about my Grandpa (Dad's dad) made moonshine during Prohibition, and Uncle Cletus's dad ran it.
Uncle Cletus and Aunt Gerrie have four children: Debbie, Bill, Greg, and Danny. Mom's other sister and husband, my Aunt Alice and Uncle Bud, lived down the road in the neighboring town, and they have three boys: Travis, Justin and Chris.
Uncle Cletus and Aunt Gerrie, who were my godparents, bought the old homestead my mom's parents used to own in the tiny Kansas town of Andale. They even lived in the old, rambling farmhouse, but after they built a new house on the same farm, I marveled how people bought the old farmhouse and moved it down the road.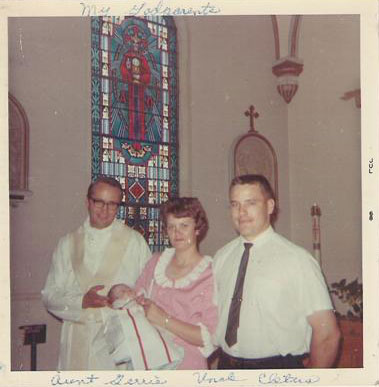 Each summer, my siblings and I would spend a week or two in Kansas with all of our cousins. I liked watering the garden and picking vegetables since we didn't have a garden at our house. You learned early on to move fast when Uncle Cletus barked orders, and I don't remember him sitting still.
Sometimes bad things happen to good people. The day before my 14th birthday – a week shy of being exactly 28 years ago, Mom was braiding my hair for a school banquet, and the phone rang. Uncle Cletus was in an accident in his gas truck, and his neck was broken. Mom cried, and all of us kids were stunned into silence. I went along to the banquet and questioned our science teacher about neck vertebrae bones, trying to hold off tears and worry.
Over the next few days and weeks and months, we learned the extent of Uncle Cletus's injuries. He was paralyzed from the shoulders down so he would be a quadriplegic and confined to a wheelchair. The giant who couldn't sit still and loved baseball was permanently still except for the tremors that shook his body on occasion.
I remember visiting him while he was still in the hospital, and I stayed in the waiting room, afraid to see him. After cajoling from my parents and cousins didn't work, my aunt came and got me, assuring me he still looked the same, that I shouldn't be afraid.
After that initial bump, I wasn't afraid of his injuries. When we were visiting, I got after him for not shifting his weight like he was supposed to and do airplane loops or choo-choo noises when I helped him eat. Every time I did that, that familiar grin came across his face.
He amazed small children by how he could eat a banana or a cookie. You just gave him one – the entire banana or cookie – and off he would go, eating it all while holding it with his mouth. I swear the man was part chipmunk because he could hold so much in those cheeks.
If we all went to the mall in Wichita, you saw us kids chasing behind Uncle Cletus, who would take off at a high rate of speed in his wheelchair. Paralysis also didn't hamper Uncle Cletus's work ethic. If you found yourself outside with him, you found yourself working as he barked orders. The booming voice, infectious grin and sense of humor were still there.
Although Uncle Cletus and Aunt Gerrie continued living their now complicated lives the best way they could, there were dark moments of despair. I remember the time he asked me as a teen-ager if I could go to school and figure out how to fix injuries like his. "You're smart," he said, almost as he was trying to convince me. I shook my head and murmured how I wasn't smart enough to do that, and I felt like I disappointed him.
I wince a bit when I hear or read people extolling the bravery and courage of someone dealing with paralysis, cancer, or some other bit of disaster. I know from being with Uncle Cletus and seeing cancer patients every day at work that they don't particularly feel brave or courageous. They feel like determined survivors trying to handle the crap hand they were dealt. From Uncle Cletus and Aunt Gerrie, I've learned more about grace than anything.
As it does, life went on. Uncle Cletus ran for school board, and Aunt Gerrie took notes at the meetings. They remodeled their house to accommodate Uncle Cletus's wheelchair, they traveled all over the U.S., including a cruise to Hawaii, went to mass each week, and watched their kids grow up. All of us kids got older, and there were marriages, children, illnesses, divorces, gains, and losses.
I reverted to a little kid when Uncle Cletus told me how proud he was of me when I finished from graduate school. I was in my 30s at the time. When he and Aunt Gerrie told me how much they liked my annual Christmas newsletter, I beamed with pride like I was a 10-year-old with a great report card.
Uncle Cletus wound up in the hospital because of his injuries several times, and in the recent years, some of the stays were longer and longer and worrisome. The rehab hospital doctors in Colorado were studying him because he had lived longer than other people with his injuries. To compare, Christopher Reeve's injuries were much more severe since Uncle Cletus didn't need a respirator.
When we found out about his lung cancer last fall, we were told he wouldn't live through the holidays. As my cousin Travis so eloquently put it, stubbornness can do wonders.
(SIDEBAR: And no, he wasn't a smoker. Why the hell do people ask if someone was a smoker if they get lung cancer? People do get lung cancer without being a smoker, you know, and I have a hospital full of cancer doctors who will tell you the same thing. Okay, rant over.)
We almost lost Uncle Cletus so many times over the years that it's still a bit unreal that he's really gone. Someone who constantly fought dragons seemed to be immortal. I am grateful to have someone with such integrity, soul, and humor like Uncle Cletus in my life. I am grateful we didn't lose him 29 years ago, that we had time with him, and that as a family, we rose to the occasion. I am very sad for my aunt, cousins, and their children.
Dad says Uncle Cletus is probably playing baseball up in heaven, free from his wheelchair, free from the stillness that enveloped his body. I can picture Uncle Cletus running and laughing with his booming voice, echoing through heaven as he jokes with St. Peter.