Posted By janice on March 16, 2011
As an organizer, I've often dropped off client donations to Goodwill, Salvation Army and other charities, but I would only visit the thrift stores on occasion – until I bought my house.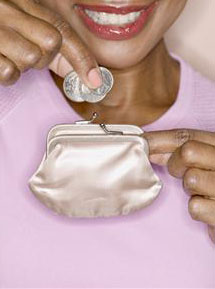 When I moved into my first apartment, I spent a lot of time in places like Goodwill, Salvation Army and other thrift and secondhand stores finding treasures and transforming them. But over the years, I got out of the habit since I had enough stuff for my apartment. When the house came along, I needed some furniture and other pieces for the larger space.
Charity-operating thrift stores, such as Goodwill and Salvation Army, use the proceeds to fund their programs. Obviously they have secondhand items, but you won't believe how many items are brand new and never been used or worn. You can score some great bargains – which is why thrift store sales have dramatically increased since the recession.
Cool finds, from home accessories to clothes
You can find some great deals. Since buying the house, I've drifted in several times to see what cool stuff I would find for the house. I've found a cool candle holder that I spray-painted black. My friend Carol introduced me to the purse, shoes and clothing sections again at Goodwill. With her help, I scored a pair of Vera Wang flip-flops for $5.
Get more for your money
Since I'm losing weight, I don't want to spend a lot of money on "transitional" work clothes. On Saturday, I bought a pair of cute ankle boots, two pairs of pants for work, two shirts and a basket for Easter for $40. Out in the retail world, one pair of the pants would have cost me $40.
If I was a parent, I would shop for kids' clothes and toys there. One of my friends regularly finds great bargains there for her growing toddler. They also have maternity clothes.
There's no guarantee on what you see today will be there tomorrow. You may have to dig through a few duds to find something cool, but that's part of the fun. Also, you will find yourself buying a lot of paint (spray paint and craft paints). To avoid buying a bunch of clutter, make smart decisions. Will you wear it? Use it?