Posted By janice on February 18, 2011
When I bought my house in the fall of 2009, I wound up with a large stack of legal-size mortgage papers and another stack of papers left by the previous homeowner.
The problem was the papers didn't fit in my file cabinet. I'm not a big fan of folding legal-size papers to fit into regular folders because it creates bulky files. So how to organize your mortgage papers?
The right container makes a difference
A friend had given me a pretty, legal-size accordion file box, and I realized that it would be a good place to store the house papers.
You can find these file boxes at Office Max and Office Depot, but they actually go by the name "Fashion Portable Case Files." Guess Accordian File Box was already taken.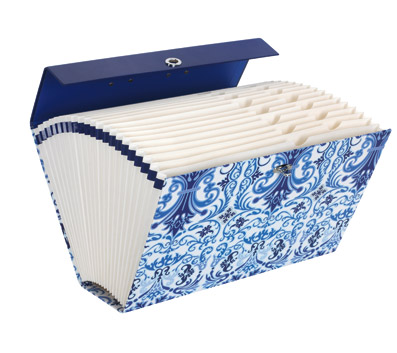 The boxes come in a plain Jane version in a basic color, OR you can find some cute ones in the filing section of your office supply store. Remember, cute is the same price as the regular.
Let the organizing begin
First, I went through the stack of papers from the previous homeowner. I wound up recycling about 80 percent of it since most of it turned out to be booklets from old appliances replaced long ago.
Some of the papers I did find: the foundation warranty and current paperwork for the heater, garage door opener and air conditioner.
Second, I made labels for my file box. I decided to add some other papers that formerly would have been in my regular file drawer. Since I had other house-related papers in the box, I decided to make sure everything related to the house was in the box.
Here are the labels I created for my file box:
Closing Papers
Chase Mortgage (since they bought my mortgage)
Home Insurance
Survey (the one they did when I bought the house)
Alarm
Home Warranty
Taxes and Appraisals
Furniture
Electronics
Art
Renovation and Service
Foundation
Former Owner Information
In the "electronics" file I included all of my instruction books for the TV and DVD player because my file box still had room. In the "art" file I parked receipts for art work I had framed. In the "renovation and service" file I put papers for the kitchen renovation, plus electrical and plumbing services.
I still have a few empty slots in my file box, and that's good since I'm sure the home file will continue to grow.
When I don't need the box, it's closed and placed on a shelf. If I need it (which is rarely), I can pull it down and find what I need. In case of hurricane evacuation, I can easily throw it in the car.