Posted By janice on February 9, 2011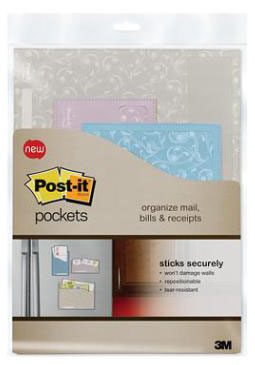 The maker of those lovely Post-It Notes, 3M, has used their original creation as a jumping off point for a bigger, more diverse product called Post-It Pockets.
What it is: Plastic pockets that have adhesive on the back and can be fastened pretty much anywhere. The pockets, which come in three sizes, are tear-resistant and removable.
Why It's Awesome: Use the pockets to store paper bills that need to be paid, coupons, RSVPs, tickets, or for school papers. You can label the outside with a label maker if you want. They're plastic so they're sturdier than paper pockets. A big plus is you can remove them and attach them somewhere else.
Drawbacks: The pockets are on the thin side, and there is only so much you can slip inside which forces you to clean out papers on a regular basis. I would like to see more variety in colors other than the beige and the pastel blue and purple. What can I say? I just love color. Another problem is that they're not made of see-through plastic so you have to physically pull papers out to see what you have.