Posted By janice on January 31, 2011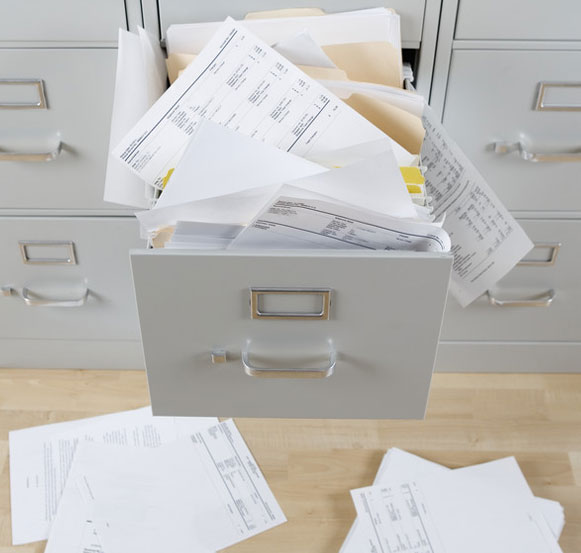 I remember the keynote well. I was sitting at a table at the National Association of Professional Organizers national conference in 2003, in Chicago that year.
A growth strategist spoke about the future of professional organizing, then growing by leaps and bounds. She said companies in the future would hire their own in-house professional organizers as a way to save money and help their employees.
"Cool," I thought to myself. "I'm trendy and didn't even know it."
Company puts professional organizer to work full-time
Last week I celebrated my 11th year at MD Anderson Cancer Center, where I am an in-house professional organizer. I am still the only in-house organizer in academic medicine as far as I know, and I've been doing the organizing work for 10 years.
When my boss and I decided to offer my organizing services in 2001, we had no idea that it would explode as it has and become my job. I have a very cool gig that I wouldn't trade for the world.
Two other organizers I know are working for businesses, one in Chicago and one in Vegas. Another was providing organizing assistance part-time but on a cost recovery basis. I know many other organizers who are interested in working for companies, but companies are not sure what to do with an organizer on the payroll.
Business professional organizers are consultants too
Business types have never shied away from hiring coaches and consultants as needed – whether it's for strategic planning, leadership development, conflict management, team building  or other similar issues.
It would be a good thing for businesses if they embraced professional organizers the same way they have embraced other coaches and consultants. Every time I see bad customer service in action or hear on the news about badly run or overly bureaucratic companies, I think, "Wow, they need an organizer." And yes, that includes state and federal government.
I know firsthand how having this kind of assistance for employees can help companies  protect their bottom line.
Professional organizers, who specialize in business and corporate clients, may call themselves productivity coaches and consultants, but no matter what the title, our work still centers on the same principles.
Here are a few ways professional organizers can help companies:
Safeguard resources (save money). If you can find it (supplies, equipment), then you don't need to buy it again. It's always good to see what you have.
Organize existing resources. Again, you need to be able to see what you have and figure out what you don't need. Messy supply areas lead to multiple purchases. Every time I help people clean out a supply area, it's like Christmas. Surprise! It's 5,000 staples!
Create workflow systems. Organizers can smooth out work flow issues, help create regular work routines for employees and navigate problem areas. This also includes helping individuals as well as companies to be as productive as they can be.
Manage paper. We  are striving to become a paperless society but still generate a great deal of paper. The antiquated "Only Handle It Once" rule doesn't work very well in our world today either. Organizers can help clients manage department and individual files, create a paper management and retention system.
Go digital. Speaking of paper, more and more clients are interested in going digital. Hurray! Like with paper, you need a process on how to organize and manage electronic files.
Help with technology. In today's world, technology means everything from managing e-mail and creating PowerPoint presentations to working on iPad and Smart Phones. Technology is not the answer to everything, but it sure does help.
Work with assistants. Some bosses aren't sure what they should ask their assistants to do, and some assistants are afraid to speak up. This happens more in the beginning stages of a new work relationship. I've also had some clients who have worked with their assistants for years, but when their job duties change, the boss and assistant need to "renew their marriage work vows" to get back on the same page.
Assist with special issues. Speaking for myself, I have worked with clients who have had memory loss from chemotherapy, ADD/ADHD, paralyzing perfectionism and procrastination, post tenure burnout, unresolved grief and complications from stroke.
Support ergonomics. This is an area that I don't have to focus on with my work since we have a department who is responsible for ergonomics. But some business organizers do have experience with making sure employees are working safely and reduce their chances of injury.
This is just the tip of the iceberg.
If you want to help your business make more money, hire a professional organizer. Through NAPO you can find organizers who specialize in business and corporate work and interview them to make sure they're the right fit for you.