Posted By janice on January 26, 2011

One of my favorite products for organizing work or home papers is the In Place
Desktop File Sorter
, part of the
Peter Walsh In Place system
at Office Max. Even though the sorter came out a couple of years ago, it still remains a popular tool for me and my clients.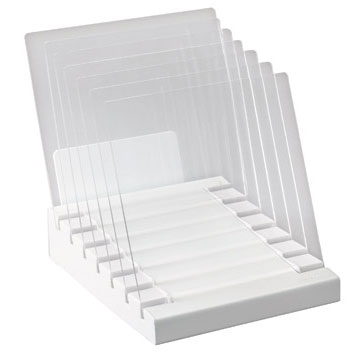 What it is: The In Place Desktop File Sorter is exactly what the name implies. It sits on your desktop and holds folders you need. You can use any type of folder, and of course, there are In Place folders available too.
Why It's Awesome: The sorter is an ascending type, meaning that the files are higher in the back than they are in the front. The dividers are clear plastic and removable and make it easy to flip through your files. Having removable sorters means you still have a place for thicker files.
My doctors at work love having space for bigger files when they're working on grants and large projects. A cool metal plate attached in the back of the sorter holds any of the removeable sorters you're not using.
Drawbacks: All of the In Place items are only available at Office Max. If you don't have an Office Max in your area, you may have to order it online.