Posted By janice on August 24, 2015
This guest post was written by Ty Schmidt of Modernize.com. Photos and captions were provided by Modernize.com.
Everyone has their own reasons for not wanting to cook. Maybe it was a long day at work and you just don't feel like it. Or you think there's nothing to make (in spite of the fully stocked fridge and pantry). Or, maybe you just spent $200 at the grocery store and you would rather grab take out than put any more effort into food-related things that day. Regardless of the reasons, there is one thing that can help: an organized kitchen can help make the task of tackling that recipe a little less challenging.
Here are a few tips to organize your kitchen in creative yet practical ways: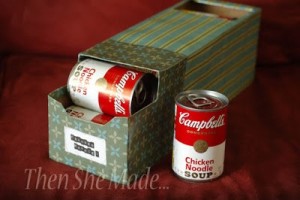 Via Then She Made
Recycle. There are ways to reuse what some may think of as garbage that can make your kitchen feel much less cluttered. Save storage space in cabinets, a pantry or a Lazy Susan by turning a used cardboard soda container into a storage vessel for soup cans.
Get tense. Tension rods are not just for bathroom showers. They can make amazing organizational tools in the kitchen in a variety of ways. Use them horizontally under the sink to create a space to hang spray bottles or towels or use them vertically in a cabinet to make a better home for cookie sheets and pizza stones.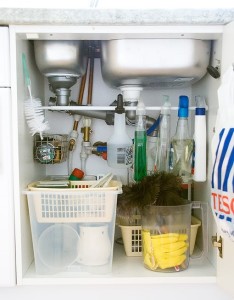 Via A Thousand Words
Get a butler for your fridge. For easy access to everyday condiments, keep your fridge free of clutter by utilizing a storage option that spins.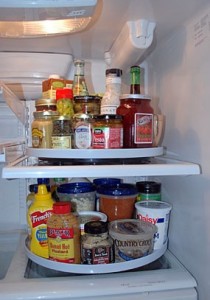 Reuse. There is no need to grapple with "that place" in the kitchen were the plastic bags from the grocery store accumulate into something resembling a smashed multi-colored snowman. If you use plastic bags and store-bought cleaning wipes, you're in luck. Repurpose old cleaning wipe containers into an attractive space-saving masterpiece that harnesses all the power of those plastic bags into a convenient, tidy and portable bag disposal unit.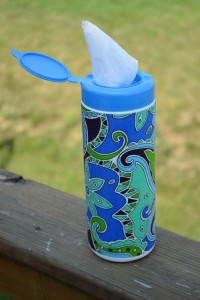 Get handy. Those pesky lids of pots and pans do nothing but take up high-quality cabinet real estate. A simple hammer and nails can transform your pot and pan storage area into a much more user-friendly space.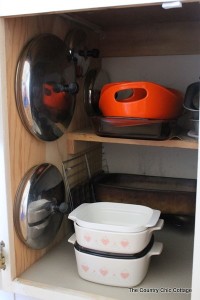 Make the pantry pretty. An inexpensive trip to the dollar store is all it takes to transform a cluttered pantry into a symphony of organization and style. Investing in a variety of air-tight containers appropriate for a variety of common items stored in pantries, and taking the time to label them, can pay dividends when the time comes to get cooking.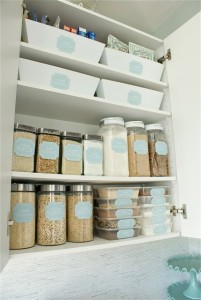 Via The Social Home
For more tips and tricks, head to Modernize.com.